Love Local Talent Solutions
Connecting phenomenal talent
Love Local Talent Solutions is our new specialist search division, providing proactive recruitment solutions to a variety of leading employers across the region. Our team of specialist consultants work in partnership with the region's best employers to strengthen recruitment pipelines, support recruitment strategy and source the very best talent in the market.
Driven by the incredible passion we have for making a difference, we provide a dedicated and consultative approach to absolutely everything we do. Inspired by the innovative industries we work within, we take on your recruitment challenges and translate them into solutions, delivering you first class talent, always.
Whether it's an executive search you need, a contingency solution or a more tailored on-site talent solution, our teams work in harmony to provide the most cost effective and efficient solution for you at all times.
Experienced consultants who are incredible at their job
Our consultants are genuinely humble and committed professionals who combine a wealth of experience from all walks of life. They share an enthusiasm for engaging with people, a genuine passion for connecting people and a desire to deliver on everything they undertake.
Our consultants have an in depth understanding of the following markets:
So much more than recruitment
Instead of just sending half qualified CV's, we concentrate on pairing phenomenal individuals with outstanding opportunities. Rather than searching through a database of CVs for buzzwords, we proactively source the best available candidates, qualifying every single one of them before sending them to opportunities which exactly suit their requirements.
We don't do easy; we're here to provide you with the best solutions for all your recruitment challenges, however difficult, confidential or time consuming they may be.
Our multi-award winning foundation leverages the positivity, influence and incredible inspiration of local businesses and influencers to engage and inspire local young people to become the best possible version of themselves they can be.
Awards
We are a small, passionate and innovative team dedicated to providing the best possible service for our clients and communities. We love what we do and that is demonstrated in all of our work and in all of our recent wins and commendations.
Together we are fully committed to enhancing the economies of the local areas in which we work – raising the career aspirations of local people, reducing recruitment spends and significantly improving our partners' employer profiles.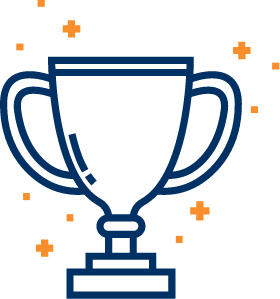 --> -->
-->
-->